DRENAfluid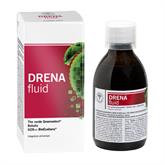 Integratore alimentare a base di Betulla, The Verde con glucoligosaccaridi.
300 ml
INDICAZIONI
​Integratore alimentare ad azione depurativa, drenante e antiossidante utile per ridurre il ristagno dei liquidi e limitare i fastidi dovuti alla loro non ottimale eliminazione.
A base di estratto di the verde, dai riconosciuti effetti depurativi che grazie all'elevata presenza delle epigallocatechine, sostanze polifenoliche, offre soprattutto una spiccata azione antiossidante.
Contiene estratto secco di Betulla, particolarmente ricco in flavonoidi, utili nel contrastare la ritenzione idrica. Favorisce l'eliminazione dei liquidi in eccesso. I Glucoligosaccaridi (GOS), sono fibre prebiotiche stimolanti del metabolismo energetico che contribuiscono a ridurre la circonferenza e il gonfiore addominale per una sensazione di leggerezza e un effetto "pancia piatta".
USO
​20ml diluiti in 500ml di acqua, da sorbire nell'arco della giornata.